Happenings
Sept 27th – Oct 4th 2017
Hello friends!! Join us every Wednesday for the events not to miss in the coming weeks.  While our google calendar is great, sometimes events can get lost in the sauce.  So here are some events we are excited for this week!!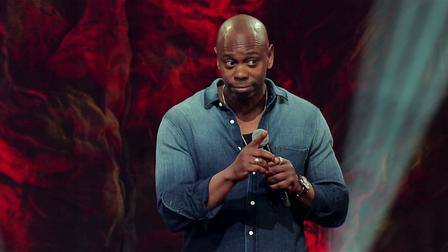 Who: Dave Chappelle
What: The popular comedian and star of his eponymous Comedy Central sketch series recently released a pair of series on Netflix.
Where: Warner Theatre, 513 13th St NW, Washington, DC 20004, USA
When: Monday September 25th – Friday September 29th 2017
Who: The Atlantic & The Aspen Institute
What: Washington Ideas will convene the nation's leaders in politics, business, health, science, technology, arts, culture and journalism for three days of can't miss conversation and connections. In the heart of the nation's capital, we will tackle the most consequential issues facing the country and the world.
Where: Sidney Harman Hall, 610 F Street Northwest Washington, DC
When: Wednesday September 27 – Thursday September 28, 2017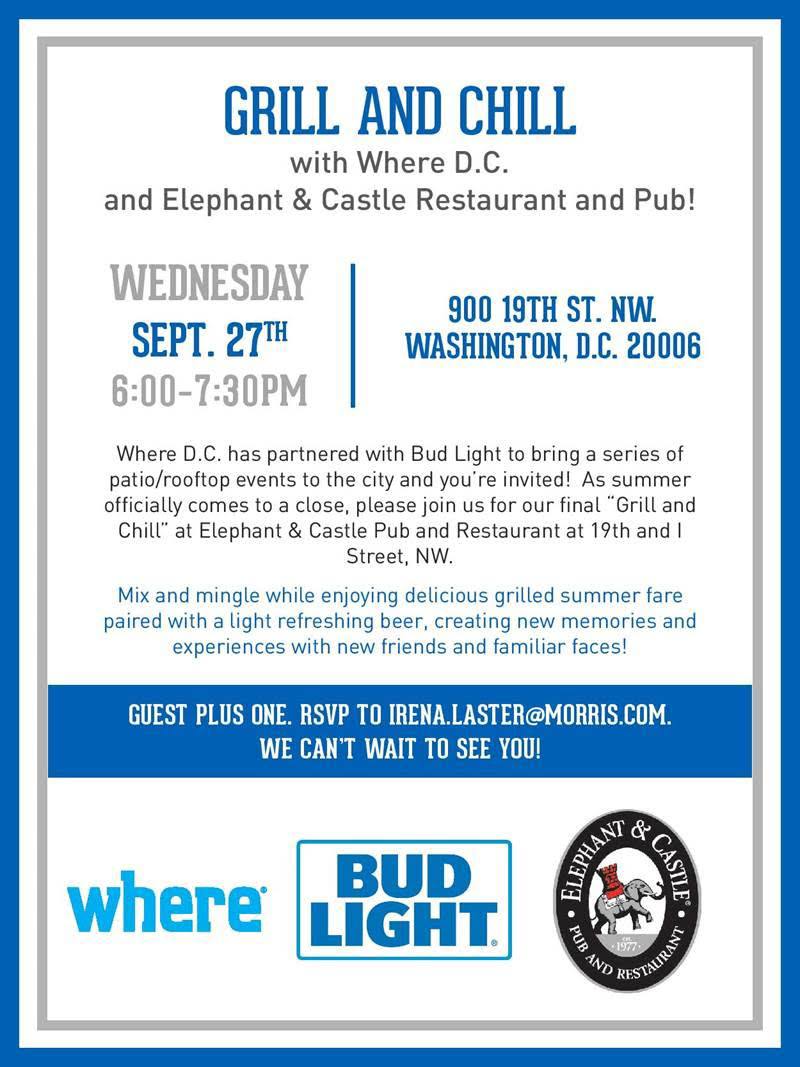 Grill and Chill
Who: Where D.C.
What: Mix and mingle with Bud Light and Where DC!
Where: Elephant and Castle Pub on 19th and I St NW
When: Wednesday Sept 27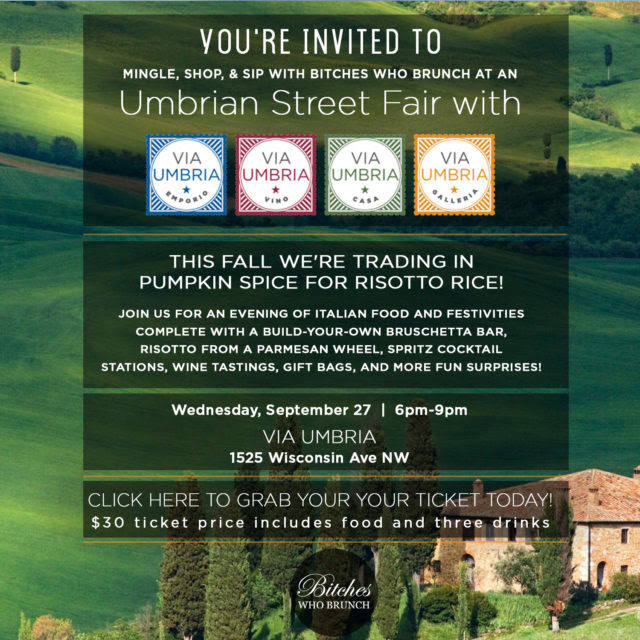 Who: Bitches Who Brunch
What: Join the ladies at Bitches Who Brunch, the final arbitors on where to Brunch, for a no-holds-barred Umbrian street fair party. Come sip, shop, mingle and explore in our Italian Restaurant/Marketplace for a special evening unlike any other in DC. Our second floor will be transformed into a street market showcasing our favorite foods and drinks! From a build-your-own Bruschetta Bar to piping hot Risotto cooked in a wheel of cheese, this street fair is sure to be the highlight of your month.  Ticket Includes: • 3 Spritz Cocktails  • Build-Your-Own Bruschetta Bar  • Risotto cooked in a Cheese Wheel  • Porchetta Sliced to Order   Where: Via Umbria, 1525 Wisconsin Avenue, NW, Washington, DC 20007
When: Sept 27th 6pm – 9pm
Networking Tour of DC's Industrial Areas with the Business Journal & WDCEP
Who: The Washington Business Journal & Washington DC Economic Partnership (WDCEP)
What: Join the Washington Business Journal and the Washington DC Economic Partnership for a behind the scenes tour of DCs industrial businesses. Meet the makers, creators and manufacturers who create products in DC. Attendees will explore the District's industrial neighborhoods, tour local maker companies, learn about available industrial space & new investment opportunities, and have the chance to network with local executives – all from the comfort of a Reston Limousine Luxury bus. The tour is part of WDCEP's DC Real Estate Tours program. Come have a taste of DC's industrial innovation. Event Schedule: 8:30 – 9:00 a.m. – Meet at WDCEP office for registration and networking. 9:00 – 1:00 pm – Luxury Bus Tour of DCs industrial zones & makers.  12 noon Lunch provided by Mason Dixie Biscuit Co. (www.masondixiebiscuits.com) will be providing a pre-set lunch; substitutions may not be available. Featured Areas & Businesses Include:  Mason Dixie Biscuit Co. * Union Market * City Winery * One Eight Distilling * Great Streets program * V Street, NE * Jon Wye custom designs.. If you have food allergies please contact us. Please note: Space is limited and previous tours have sold out. Be sure to register early to reserve your seat.
Where: Washington Economic Partners, 1495 F St NW, Washington, DC 20004, USA
When: Wednesday Sept 27, 2017 8:30am to 1pm
Calling all Creatives! End of Summer Social
Who: Vince & Kasey
What: Greetings Creatives! Labor day has come and gone as summer grows more fleeting. To celebrate our rapidly growing group and in partnership with our friends at Distinctly Creative and Graphic Design DC, we are hosting an all hands on deck social to bring together our collective creative community for food, drinks, fellowship and fun. Over the past few months since Kasey and I took over, our group has more than doubled in size (becoming one of fastest growing creative groups on Meet up), we've hosted a few fun events and got to meet a lot of great people. But as we celebrate our growth, we are reminded that this group IS and ALWAYS will be about collaboration and community and not numbers. We highly value engagement and participation from all our members to encourage a creative community that's diverse, inclusive, social and exists beyond the confines of the digital world. So we humbly request that ALL ACTIVE AND NEW MEMBERS that are available Thursday, September 28th, join us for our last social event of the summer to celebrate, network and socialize. We've reserved the entire private outdoor patio at Spaces NoMa for our event – so feel free bring friends, drinks and yourselves as we say farewell to summer in style (rain or shine). We will provide drinks and food/snacks – further details and directions below: Please RSVP on Meetup and if your plans change and you can't join us, no worries, but please update your RSVP so we can factor that into planning. For any questions or additional information, please message us anytime. We look forward to seeing you all there!
Where: Spaces NoMa (Uline Arena) NE, 2nd Floor, Washington DC, 20002
When: Thursday September 28th. 6:30pm – 10:00pm
Who: Mayor Muriel Bowser's 202Creates and Made in the District
What: It's GAME ON! with 202Creates! Come join us as we wind down the month of September with Mayor Muriel Bowser's 202Creates month. In celebration of Washington Ideas and hosted by Mayor Muriel Bowser's 202Creates and Made in the District, GAME ON with 202Creates! brings together sports, arts, music, media and tech in an event you won't want to miss!
Where: Future of Sport Installation – 700 H Street Northeast – Washington, DC 20002
When: Friday September 29, 6:00 PM – 10:00 PM
American Field at Union Market
Who: American Field
What: At a time when consumers have never been more disconnected from where their products come from, American Field offers a refreshing alternative. Through a careful curation process, AF brings together a balanced collection of the nation's most innovative and emerging brands for weekend long pop-up market. Free and open to the public, attendees can immerse themselves in an experience that they will want to mark on their calendars yearly. For more information, visit here —> https://americanfield.us/pages/fall-washington-dc-2017
Where: Union Market, Washington, DC, United States
When: Sat, Sep 30 – Sun, Oct 1, 11:00 AM – 6:00 PM
Who: Co-op Festival 
What: Join us for this free event on the National Mall September 30- October 1st to celebrate the diversity and impact of co-op businesses. Try co-op products from Ocean Spray, Cabot Cheese, Organic Valley and others, learn about this inclusive business model through games and demonstrations with America's Credit Unions and Co-ops Build a Better World. There will virtual reality farm tours, a passport quest for a "Co-op Patch" for Girls and Boys Scouts, and live music.
Where: National Mall, Washington, DC, USA
When: Sat, Sep 30 – Sun Oct 1, 10:00 Am – 4:00 PM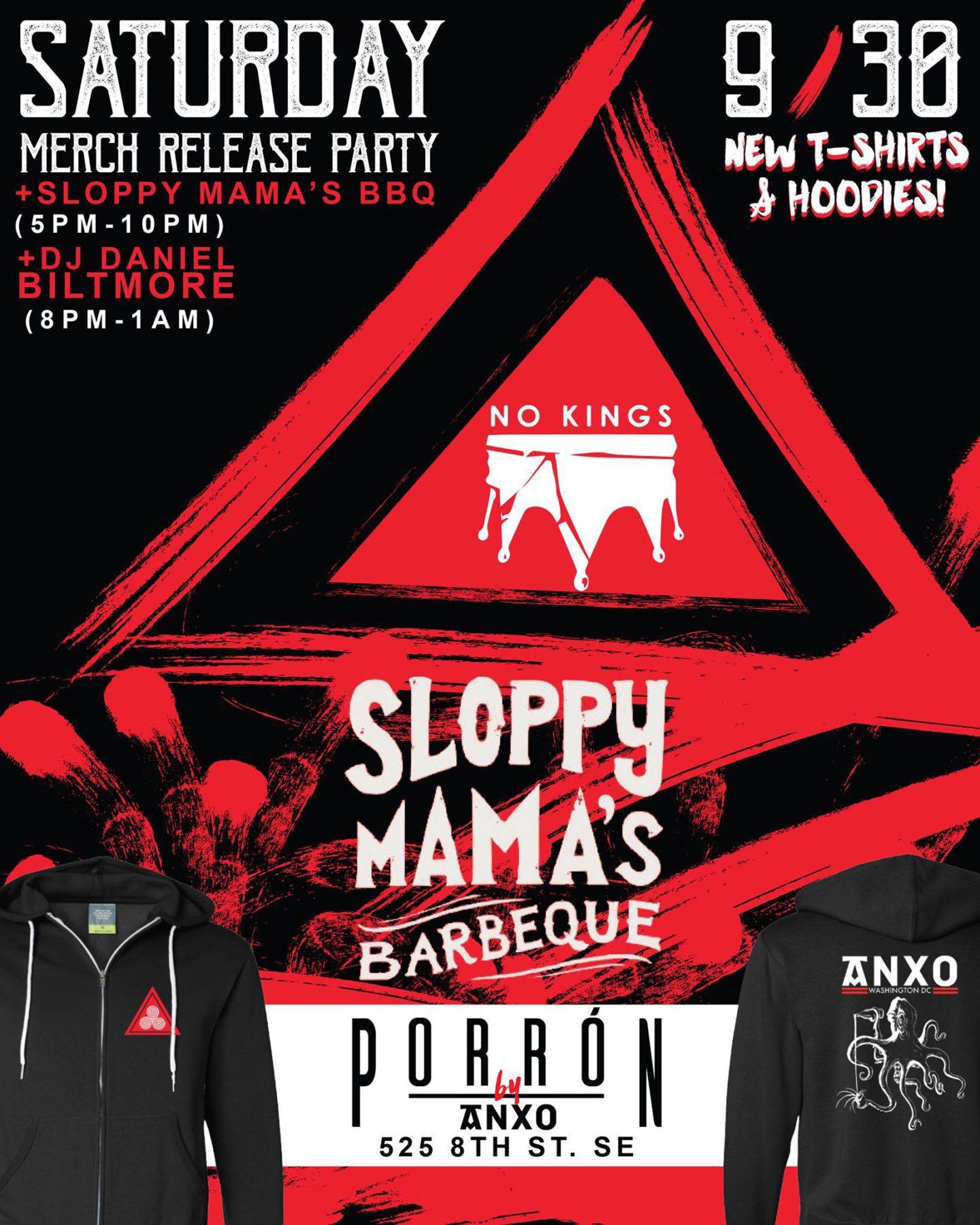 ANXO + No Kings Collective Pop up shop/Fundraiser
Who: ANXO + No Kings
What: We're teaming up with ANXO to host a pop up shop at their Eastern Market location, Porron, on September 30th! The collaboration will include tshirts, hoodies, prints, limited edition original art and other goods. Proceeds from the pop up shop will benefit an organization involved in disaster relief for the recent hurricanes Harvey, Irma, and Maria. BBQ from Sloppy Mama's 5p-10p(for the early birds)
Where: 525 8th St SE, Washington, DC 20003-2835, United States
When: Sept 30, 8:00pm – 1:00am
Why: Proceeds from the pop up shop will benefit an organization(s)(to be announced) involved in disaster relief for the recent hurricanes Harvey, Irma, and Maria.
Who: Yoga Love instructors and the cute goats
What: Join Yoga Love instructors and the cute goats on the Okeefe Farm for 75 Minutes of goat yoga! Find joy and play on your mat as you flow with these adorable animals!! Refreshments will be provided! All we need is you and your mat!
What does your $40 get you……Wine, cheese and fruit, hayride to a secluded spot for a 75 minute yoga class and feed for the top of your mat, so the goats will visit you while you flow!!!
Where: 6940 Haviland Mill Rd – 6940 Haviland Mill Road – Clarksville, MD 21029
When: Sat, Sept 30th, 6:00pm – 7:30pm
Who: Black Owned Wine Festival
What:Never before has there been an opportunity where African-American owned Spirit, Wine, and Beer brands have been unified in one place for a single common ground. The Black Owned Wine & Spirits Festival will lay a foundation of commerce and education that will inspire and propel a movement towards the widespread support of Black owned Spirits, Wine and Beer. The narratives and creation stories of these brands are a mere reflection of the spirit and ambition of a people known to create, inspire, and evolve by any means necessary. Now let's raise a glass to that! All Guests will have the pleasure to enjoy: Samplings of a wide range of different National and LOCAL Wines, Beers, and Spirits. • A Souvenir Glass to take home, • Great food to sample and to buy from some of DMV's hottest restaurants, caterers and Food Trucks, • Live Performances as well as a DC's #1 female DJ MIM offering music throughout the day. Our VIP Guests Will Experience: • Access to VIP Rooftop Lounge exclusively for these guests. • Enhanced Tastings: Specialty cocktails and passed hors d d'ovueres • VIP Swag Bag • VIP restrooms
Where: The Showroom DC, 1099 14th Street, NW Washington, DC 20005
When: Sept 30th, 2:00pm – 8:00pm
Why: To Lay a  foundation of commerce and education that will inspire and propel a movement towards the widespread support of Black owned Spirits, Wine and Beer.
Who: Big Gay Flea: A Queer Market
What: Just in time for fall, we're happy to announce the District's first BIG GAY FLEA! Welcoming queer businesses and artisans, queens with full closets, artists and collectors alike! Get your holiday shopping started early while planning your lewks for Halloween & MAMP! The FLEA will be held Sunday, October 1st in the Town Danceboutique parking lot from 12 to 5pm. Our outdoor area will be transformed into a vendor's market, while the indoor areas will have games, full bar service, drag performances, and DJs! Outdoor market is all ages & free to the public, indoor bar activities are 21+ w/ ID! FEATURING:
Alotta Stuff Rack, Come On Strong, Clack That Fan, Mundy's Junk, OUS & ITE (+ more).  PERFORMANCES: Alotta McGriddles (NYC), Donna Slash, JaxKnife, Salvadora Dali, BaNaka, Pussy Noir, Chaz, Jasmine Tea.  Music: Devon Trotter & LEMZ.
Where: Town Danceboutique, 2009 8th St NW, Washington, DC 20001, USA
When: Oct 1, 12:00pm – 5:00pm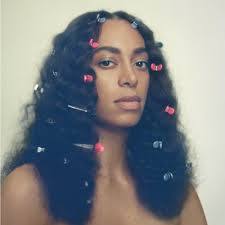 Solange @ Kennedy Center Concert Hall
Who: Solange
What: A Seat at the Table, an album written and performed by Solange Knowles, and co-executive produced alongside Raphael Saadiq, has been released globally on September 30th, 2016 via Saint Records / Columbia. Solange describes A Seat At The Table, which she began writing in 2013, as "a project on identity, empowerment, independence, grief and healing." A Seat at the Table debuted at #1 on the Billboard Top 200 Chart with over 72,000 units sold. The album was #1 on both Apple Music and iTunes Overall Top Albums Chart.
Where: The John F. Kennedy Center for the Performing Arts, 2700 F St NW, Washington, DC 20566, USA
When: Oct 1, 7:00pm – 10:00pm
hgAthletics x CorePower Yoga Takeover
Who: hgAthletics x CorePower Yoga Takeover
What:We're excited to announce we've partnered with our pals at CorePower Yoga for a series of studio takeovers beginning at 5PM on the first Monday of every month! Visit the CityCenter DC CorePower Yoga location for a class after 5PM and receive a 20% off voucher for our hgChinatownDC location (716 7th St NW)!
Where: CorePower Yoga – 824 9th Street Northwest – #a – Washington, DC 20001
When: Monday Oct 2, 5:00pm – 10:00pm
Nasty Women at Politics & Prose 
Who: Samhita Mukhopadhyay, Kate Harding, Nicole Chung, and Mary Kathryn Nagle
What: Samhita Mukhopadhyay, Kate Harding, Nicole Chung, and Mary Kathryn Nagle discuss the new book Nasty Women: Feminism, Resistance, and Revolution in Trump's America/ This event is free to attend with no reservation required. Seating is available on a first come, first served basis.
Where: Politics and Prose Bookstore, 5015 Connecticut Ave NW, Washington, DC 20008, USA
When: Monday Oct 2, 7:00pm – 8:30pm
Why: Feminism, Resistance, and Revolution in Trump's America
RPM Italian Presents Ram's Gate Wine Dinner
Who: RPM Italian
What: We are excited to host Ram's Gate Winery for a five-course food and wine dinner featuring small-lot Chardonnay and Pinot Noir from their Sonoma and Carneros vineyards. To complement the wines, RPM Italian will serve dishes such as Grilled Quail with Farro & Hazelnuts and Porcini-Rubbed Venison with Fall Vegetables. This dinner is $95 per person (plus tax; gratuity not included). To view the full menu click below. To inquire about reservations, please fill out the form on the right or contact the Special Events team at rpmitaliandcparties@leye.com or 202-204-4490.
Where: 601 Massachusetts Avenue Northwest, Washington, DC, United States
When: Tuesday Oct 3, 7:00pm – 11:00pm
Tasting Spain: Cuisine, Culture, and Heritage. Lecture + Tasting.
Who: Director, Gloria Rodriguez
What: Eat Spain Up´s Director, Gloria Rodriguez guides us through the regions and tastes of the country, the traditions that make up its culinary heritage, and the contemporary innovation that transformed its gastronomic landscape. The evening includes a tasting of regional foods and wines from the guest region of Burgos. Activity organized in collaboration with the Smithsonian Associates.
Where: 2801 16th Street NW, Washington DC, 20009, Estados Unidos
When: Tues, Oct 3rd, 6:45pm – 8:45pm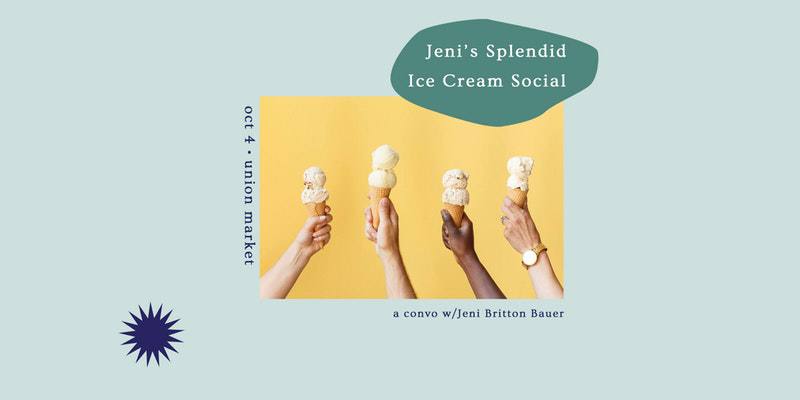 Jeni's Splendid Ice Cream Social
Who: pineapple DC
What: Call her the ice cream mogul or the dairy queen, but Jeni Britton Bauer, founder of Jeni's Splendid Ice Creams, is the woman behind America's obsession with better ice cream and has been for two decades. We're talking ice cream made from grass-pastured cows with smooth texture and buttercream body and inventive flavors ranging from brambleberry crisp to buttermilk and churro. Plus did you know, she kickstarted the salty caramel ice cream trend?! Pure genius… Join us in conversation with Jeni to celebrate Jeni's first DC shop on 14th St NW, which is location #32 in her ice cream empire. Holley Simmons, Washington Post contributor and co-founder of The Lemon Collective and Sill Life, will interview Jeni IRL to uncover her ice cream journey–from art school dropout and former perfumer to the visionary food leader we #pinefor today. Come socialize and enjoy scoops from Jeni's Ice Cream Truck, which will be parked at Union Market exclusively for pineapple ! Ticket includes conversation, ice cream + wine by Cordial Wine
Where: Union Market 1309 5th Street NE Washington, DC 20002
When: Wed, October 4, 2017 6:30 PM – 8:30 PM
Who: Roxanne Owen
What: Need a break from your busy work day? Come to the Alliance Française in Dupont Circle to practice 60 minute Lunchtime Flow Yoga in French! Classes will be led by Roxanne, a certified yoga instructor and native française! These classes will be small groups of no more than 10, which means you will have a much more intimate and constructive practice! Prior registration is required due to limited space. Classes run Wednesdays at 12:00PM from September 13th until October 18th (Sept 13, Sept 20, Sept 27, Oct 4, Oct 11, & Oct 18). Single Class Prices: AFDC Members: $15, Non-Members: $18 Please note that we will not be providing mats. We do not have a locker room, but we do have a larger bathroom which can be used as a changing room.
Where: Alliance Française de Washington DC – 2142 Wyoming Avenue Northwest – Washington, DC 20008
When: Wed, Oct 4th, 12:00pm – 1:00pm