Happenings

Sept 13th – Sept 20th 2017
Hello friends!! Join us every Wednesday for the events not to miss in the coming weeks.  While our google calendar is great, sometimes events can get lost in the sauce.  So here are some events we are excited for in the coming week!!

Italio Disco: "MAG WORLD" Book Release Party
Who: Emilia Ferrara
What: Join Emilia Ferrara for the celebration of the release of her new book, Mag World! Enjoy an evening of delicious food, installations by amazing local artists and learn more about the mission behind Mag World.
"Mag World is an non-fiction text that threads together voices such as Virginia Woolf, Walter Lippman and Tina Fey. Ferrara speculates over the future of girls as readers, much like Woolf imagined the future of women writers. She challenges intricate details of modern journalistic practices, adjacent to Lippmann's review on his day. And her hopeful (and sometimes humorous) tone echoes Fey's ability to deliver a positive critique. Written with both vision and forgiveness, Mag World is a melodic call for reform, a handshake to editors and an inspiration to today's girls who stand to inherit the future."- emiliaferrara.com
Where: L2 Lounge in Georgetown
When: Thursday Sept 14th
Who: Brightest Young Things
What:  Sharks and Recreation, A Nat Geo After Hours: Join BYT for a Bloody-Good-Time All-Access Party-Mode National Geographic HQ Take Over! With exclusive access to the (soon to be gone) Nat Geo Museum exhibition: Sharks: On Assignment with Brian Skerry + Hot jamz and vibes from: Holy Ghost! (DJ set) Featuring a big outdoor courtyard to frolick in with SKYY Vodka specialty cocktails and beer from Old Bust Head Brewing Company! and tunes from AXEL F, DJ Stylus / Adrian Loving / Jahsonic +Food Trucks / Photobooths / Frickin' Laser Beams / Ron Swanson Look-A-Like Contest / Disco Shark™ / The #BYQueens / A real live mermaid / + Jump the Mechanical Shark!
Where: National Geographic Museum
When: Friday Sept 15th from 8pm – 12:30am
Who: H Street NE Washington DC
What: This will be the best festival ever (according to H St and I kinda agree), spanning 10 blocks of H Street NE and featuring 14 staging areas and more than 250 businesses, restaurants, community organizations and vendors. Come down to enjoy great food, drinks, music, contests, kids' activities and more!
Where: H St NE
When: Saturday Sept 16 from 12pm – 7pm
Who: Future of Sports
What: MITD is throwing a #FutureofSports soft opening pop-up event of the bar portion of the Future of Sports art installation at H Street Festival! The soft opening of the Future of Sports pop-up bar will be open for the first time to the general public and will feature a line-up of 7-8 DJs, workouts, pop-up shops, art installations, food and more. Even though the full installation will not be open just yet, this will give you a small taste of what's yet to come! Follow @thefutureofsports for lineup announcements and more details coming soon! #FutureOfSports
Where: 700 H St NE, Washington, DC
When: Saturday Sept 16 from 12pm – 12am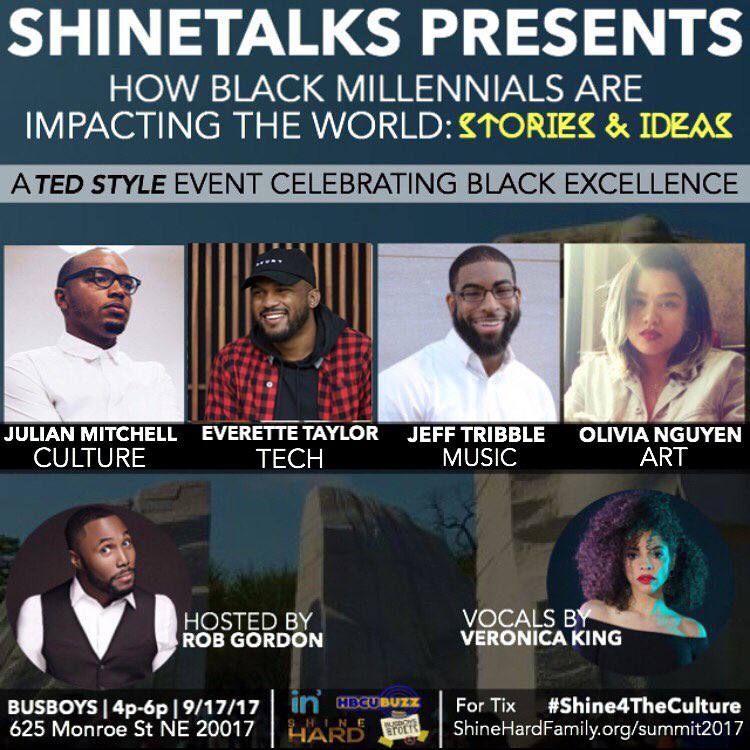 Who: Shine Hard Family
What: An interactive weekend projected to impact over 500 millennials through workshops, panels, and keynotes. This event will serve as an incubator for students, graduates, and professionals who seek to find their passion, share their story, and impact the world.
Where: In3 aka Inclusive Innovation Incubator, Cotton & Reed, and Busboys & Poets
When: Saturday Sept 16th and Sunday Sept 17th
Why: The Shine Mission is to recognize and connect the nation's top black millennial leaders, then unify them to educate and inspire the next generation of African American of leaders.
Up Top Acres: Meditation and Dinner Retreat
Who: Up Top Acres, recharj, Nourish & DC Fray
What: Join us for an evening of mind & body education and nourishment on the beautiful rooftop farm of Up Top Acres (55 M Street SE). Our 'Rooftop Release' will begin with an introduction to the art and essence of meditation with Recharj. Learn how to reduce stress, improve your health and gain peace of mind in a busy city.  Once your mind has been placed at ease, Jay Vilar, founder of Nourish DC will provide you with a 4-course family-style meal, wine included. During this delicious dinner, Jay will educate you on how to heal, nourish and energize your body and health through different types of food and preparation techniques. He will change the way you think about what you consider "food" is. Experience Includes: – 1 Hour Intro to Meditation Practice with Recharj, – 4-Course Meal and Nutrition Wellness Education with Nourish, – Wine (not a pairing, just available to enjoy) and – DC Fray Event Staff to ensure you have the best experience.
Where: Up Top Acres
When: Sunday Sept 17 from 6pm to 9pm
Who: Edible DC and China Chilcano
What: Upgrade your brunch game and join Edible DC Magazine for an all inclusive SundayFunday. For $45, enjoy an open bar of Pisco Punch + Chilcano cocktails in addition to unique food stations and passed bites as you dance your way around the restaurant to live music. Just a month before the EdibleDC Magazine Awards we will announce the top five finalists for each category ranging form Best Local Distillery to Best Local Chef x Farmer Collaboration. Better yet, grab the newly released Fall issue of EdibleDC Magazine!
Where: China Chilcano
When: Sunday Sept 17th from 12pm – 3pm
Who: Color Run
What: A Colorful 5k start to the day.  The Color Run Dream Tour, Presented by Lay's® is coming to your city with an all-new Lay's® Poppables™ Foam Zone, Unicorn Medal, inspirational Dream Wall, giant inflatable unicorns, and Purple Color Zone!
Where: National Harbor
When: Sunday Sept 17th at 9am
Who: DCRA
What: Join the DC Department of Consumer and Regulatory Affairs and the Washington DC Economic Partnership for the fifth annual Entrée DC program, an event that connects the food and beverage industry with DC public and private sector resources. Connect with budding entrepreneurs, thriving businesses and industry giants disrupting the hospitality industry in DC. Hear from leaders in the field about how to market, grow and expand your business. Sit down with permitting specialists to learn the ins and outs of regulation and check the status of your permits. Hire top talent at our Entrée DC Job Fair and find the right suppliers for your food and beverage industry needs.
Where: Washington Convention Center
When: Monday Sept 18th from 9am – 12pm
Who: Human Rights Campaign
What:  5:30 p.m. – Cocktails & hors d'oeuvres
6:00 p.m. – 5/10/15 Speed Diner seatings begin
7:00 p.m. – Dock5 doors open
Where: Dock5 Union Market
When: Tuesday Sept 19th from 5:30pm to 9pm
Why: The Human Rights Campaign represents a force of more than 1.5 million members and supporters nationwide. As the largest national lesbian, gay, bisexual, transgender and queer civil rights organization, HRC envisions a world where LGBTQ people are ensured of their basic equal rights, and can be open, honest and safe at home, at work and in the community.